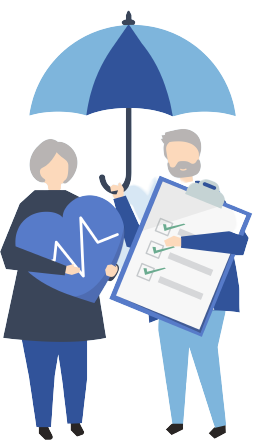 Supplementary health insurance
The statutory health insurances do not cover the entire field of health care. Therefore, additional insurance can be useful in a wide variety of areas. The most important supplementary insurances include improved care in the hospital (single or double room, treatment by the head physician) and additional tariffs for dental treatment.
Advantages of private supplementary health insurance:
The insurers offer numerous solutions for the various requirements:
Anyone traveling to a country with which there is no social security agreement should take out travel health insurance
If you want to avoid co-payments to the dentist, you should take out additional dental insurance
Various supplementary tariffs cover, for example, the cost of glasses or spa treatments
Supplementary long-term care insurances are interesting for those who want to secure their entire assets in the event of long-term care
Who would like to have a single or double room in the hospital
Who would like to be treated by the chief physician
Anyone who is a member of a statutory health insurance can increase the services offered by supplementary insurance.
A good state of health is always a prerequisite for taking out private supplementary insurance. Those who already have significant illnesses are usually no longer admitted or have to reckon with surcharges.
In the private supplementary health insurance, various areas can be improved with an additional tariff:
Supplementary insurance for treatment by the head physician and accommodation in a single or double room
Supplementary insurance for dental treatment
Supplementary care insurance
Daily sickness allowance insurance
International travel health insurance
Supplementary tariffs to cover co-payments in hospitals, glasses, cures, etc.